December 2004 - Cape Town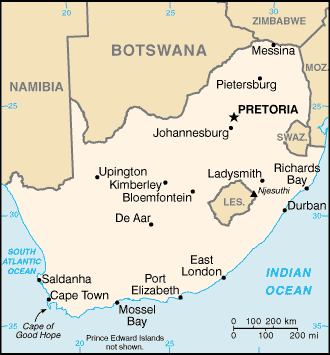 Facts South Africa
The number of cruising boats visiting South Africa has remained stable in recent years as the Red Sea route was preferred by yachts undertaking a circumnavigation. With the return of South Africa to the international fold, this has changed as more sailors are tempted to experience first hand this country's many attractions. All round the world races now include South Africa on their itinerary.
The country's convenient position and excellent yachting facilities make it a natural stopover, added to which are the many nature reserves that make South Africa an interesting place to visit. One major drawback is the weather and sailing conditions, the waters around the tip of Africa being among the most dangerous in the world.
As there are yacht clubs in most ports, the clubs are the best source of information on local conditions. The yacht clubs like to be contacted in advance by those wishing to use their facilities. It is not normally allowed to live aboard a yacht, but a concession is made for visiting foreign yachts as a temporary privilege. Most yacht clubs, such as those at Cape Town, Durban and Richards Bay, have their own hauling facilities or work closely with a local boatyard.
Yacht clubs are also convenient places to leave the boat while visiting the interior. The Zululand Yacht Club in Richards Bay is a good place from which to visit the Umfoloze, Hluhluwe and St Lucia reserves, while Kruger Park can be easily reached from the Point Yacht Club in Durban.
For any major repair, Cape Town and Durban have a complete range of services.
Hout Bay, located some 20 miles south of Cape Town, is an excellent alternative for those who prefer a smaller port with surrounding beaches, wildlife and scenery to the busy marinas of Cape Town. Almost all repair facilities can be found here as well, often at a better rate and with more attention to detail. Another alternative to Cape Town is Simonstown, on the NW side of False Bay, some 15 miles North of the Cape of Good Hope. Tradespeople from Cape Town come to Hout Bay and Simonstown on a regular basis or will visit you on request.
(Source: Noonsite)