August 2004 - Indonesia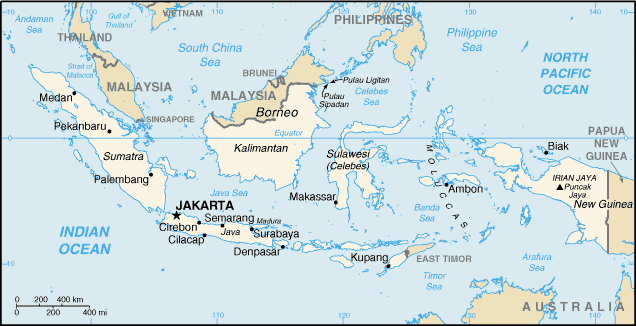 Facts
The collapse of General Suharto's regime in 1998 set in train a period of internal instability that threatens to continue for some time, particularly ethnic and sectarian violence in many parts of the country. It is therefore essential that anyone planning to visit Indonesia should monitor the internal situation carefully and avoid critical areas at all costs.
With some 13,677 islands the Indonesian archipelago is the largest island group in the world.
The main islands are Java, Sumatra, Irian Jaya (the western part of Papua New Guinea), and Kalimantan (formerly Borneo).
For cruising sailors, access to this fascinating country is complicated by the need of a cruising and security permit (CAIT), which must be obtained in advance. Although one may be able to obtain it without the help of a local agent, the frustration and waste of time is hard to justify. The easiest way to obtain it is by joining the annual race from Darwin, which used to finish in Ambon but will now use Bali instead.
Most yachts cruise the islands from east to west, each island different from its neighbour.
Benoa Harbour in Bali is the most popular port of call for cruising yachts and there is a reasonable range of repair facilities. The opening of Bali International Marina and the existence of a number of excursion vessels have consolidated Bali's position as a modest yachting centre.
Otherwise, yachting facilities are only available in the few places where there is either a local yachting community, such as Java, or in those frequented by cruising boats, such as Bali and perhaps Ambon.
Outside of Bali, some repair facilities are available at Surabaya, on Java, where there are several boatyards, general workshops and sailmakers. Surabaya's main drawback is that it has no docking facilities for yachts and theft is a serious problem in the harbour.
The development of new marinas, such as at Carita Bay, near Java, or Nongsa point Marina, opposite Singapore, will undoubtedly bring about a long awaited change.
(Source: Noonsite)